Welcome to All Reverse Mortgage Company
®
All Reverse Mortgage is a HUD Approved Direct Lender. Our goal remains simple; to offer the best terms accompanied by extraordinary customer service. We maintain an A+ exemplary rating by the Better Business Bureau and are proud members of the National Reverse Mortgage Lenders Association. As a NRMLA member we abide by a Code of Ethics & Professional Responsibility in which we pledge to serve you with integrity. Your best interests are our primary consideration.
The Reverse Mortgage is ALL We do.

Our single focus is giving you the best reverse mortgage to fit your needs. No high pressure sales tactics or impersonal treatment like you find at the bigger lenders. It's what separates All Reverse Mortgage from the rest.
"The Maverick is All Reverse Mortgage"
- The Huffington Post
"Best Reverse Mortgage Brand"
- RMD Awards
"Best Reverse Mortgage Website"
- Professor Guttentag AKA The Reverse Mortgage Professor
Our Exclusive Programs Designed to Fit Your Needs.
All Reverse Mortgage© has consistently brought exclusive offers to our valued customers. Because of our unique process we're able to offer a better federally-insured reverse mortgage with no compromise.
Take a look at some of our program benefits that you won't find elsewhere:

All Reverse Mortgage© Exclusive 3.99% (5.35% APR) Fixed Rate for Life

Flexible Credit Lines from 2.4% with the Industries Lowest Lifetime Rate Exposure

ZERO Origination Fee Plans

ZERO Financed Closing Cost Plans

ZERO Monthly Servicing Fees on ALL programs
*Complete form above to receive a comparison of all available programs. Excludes state taxes when applicable. Min loan amount for $0 origination fee is $40,000. *APR ran at $185,000 loan amount / 60% or less PLF utilization. Lifetime rate cap on all adjustable rate plans just 5% over the start rate.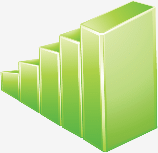 What Do Our Clients Have To Say?
"We are very pleased with the whole process and with everyone involved. We would recommend you to our friends, thank you so much for such professional service"
• Bronson
"All Reverse was very patient and clearly explained the loan program. The loan funded in just 4 weeks! We are very happy"
• Mr. & Mrs. Gutierrez